Danger heading downstream: the Accident Emergency Warning System in action

Danger heading downstream: the Accident Emergency Warning System in action
An internet-based information system, integrated with the ICPDR's Danubis system, provides round-the-clock communication in the event of a major transboundary accident.
Measures on the Drava River are put into place to control pollution and eliminate fuel. Of the 61 accidents registered between 1997 and 2006, 35 incidents were caused by oil pollution.
A warning message flashed out from Slovakia at 11:19 a.m. on November 20, 2006. The message, alerting downstream users of pollution on the Morava, originated from Slovakia's Principle Alert Centre (PIAC ) and was sent to PIAC 02 (Austria), PIAC 03 (Czech Republic), PIAC 05 (Hungary) and the ICPDR. The downstream countries all quickly confirmed receipt of the message and Slovakia's PIAC sent an End of Alert message later that day. The twist? The pollution spill didn't exist.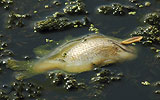 Rather than wait for the signs of a major pollution incident, the AEWS alerts downstream countries early enough that mitigating measures can be taken well in advance.
The message was part of a test of the Accident Emergency Warning System (AEWS). The AEWS is activated whenever there is a risk of transboundary water pollution, or threshold danger levels of hazardous substances are exceeded.
Snapping into action. "The AEWS is one of the key elements for good neighbourhood and solidarity inside the Danube Basin", says Richard Stadler, Head of the Austrian Delegation to the ICPDR. The system's warning messages to downstream countries help national authorities put environmental protection and public safety measures into action. The ICPDR Secretariat maintains the central communication system, which is integrated with the ICPDR information system Danubis.
The AEWS came into operation in April 1997 and between May 1997 and December 2006, the system registered 61 accidents. Of these, 35 incidents were caused by oil pollution. The system proved its strength in 2000 during the Baia Mare and Baia Borsa spill accidents on the Tisza River. The system effectively enabled timely activation of measures that prevented more extensive damage to people and ecosystems downstream.
More support needed. The results of the 2006 test showed that the AEWS provides a sufficient framework for immediate distribution of alarms. However, AEWS experts determined that PIACs need more attention and support from national governments to ensure appropriate system operation and to guarantee round-the-clock preparedness. The AEWS must be adequately linked with all relevant actors at the national level such as fire brigades, police and civil protection. "Most important is a detailed analysis of the national communication routes", says Stadler.
At present, two PIACs, Germany and Moldova, are being restructured, and several other PIACs need to strengthen their capacities. The current setup in Serbia and Bosnia and Herzegovina, for example, does not enable round-the-clock preparedness as required, and the two alert centres in Ukraine have not adequately participated in AEWS operation during recent years. "We strive for a 24 hours a day and 7 days a week availability of all the persons who are a necessary part of the alert giving system in all 14 Danubian countries", says Stadler, "This is an ambitious goal but I am sure that we will achieve it now very soon."