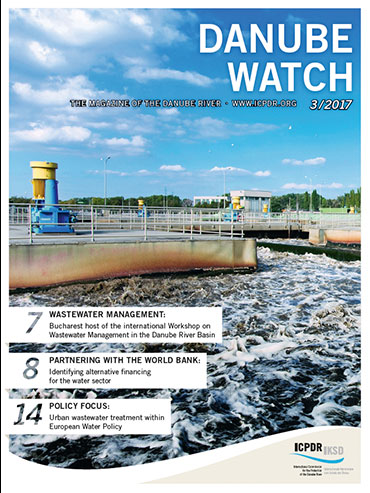 Owner/Publisher: ICPDR – International Commission for the Protection of the Danube River, Vienna, secretariat@icpdr.org; Executive Editor: Hélène Masliah-Gilkarov; Editor: Robert Ives; Design: Wagesreiter & Polaschek Grafikdesign; Print: Gerin Druck GmbH; Online publishing: Alex Höbart; Cover photo: ©ebswien/Hannes Sallmutter, waste water treatment plant - sludge tank;
Danube Watch is the official magazine of ICPDR, the International Commission for the Protection of the Danube River. Danube Watch enhances regional cooperation and information sharing on sustainable water management and environmental protection in the Danube River Basin. It reports on current issues affecting the Danube Basin, and on action taken to deal with challenges in the river basin. Striving for scientific accuracy while remaining concise, clear and readable, it is produced for the wide range of people who are actively involved in the Danube River Basin and are working for the improvement of its environment.
The ICPDR accepts no responsibility or liability whatsoever with regard to information or opinions of the authors of the articles in this issue.
For a free subscription to Danube Watch, or to contribute to Danube Watch, please contact secretariat@icpdr.org
Dear readers, The discharge of untreated or badly treated wastewater into rivers, streams and groundwater used to be a serious problem in the Danube River Basin. Today, due to a huge

The Danube meets other major world players at the Water and Climate Summit On 23-25 October 2017, the Meeting of the Great Rivers of the World Summit took place in the Campidoglio in

International Workshop on Wastewater Management in the Danube River Basin Bucharest played host to the first International ICPDR Workshop on Wastewater Management in the Danube River

Identifying alternative financing for the water sector We are surrounded by the benefits of past investments, and the human cost of poor water quality is clear, from reduced economic

FACTS: the World Bank The World Bank was formed in 1944 in New Hampshire, United States with the initial objective of providing finance for the reconstruction of European countries

Wastewater Treatment Overview

Urban wastewater treatment within European water policy By the 1980s, pollution of our waters – rivers, lakes, coastal waters and

Urban Wastewater Treatment: getting the broader picture Wastewater from homes, cities, industry and agriculture flowing back into the natural environment without being treated or

SOLUTIONS Background:The SOLUTIONS project is an EU funded project that seeks to provide new and improved tools, models and methods to support decisions regarding environmental water

METEET initiative: First workshop on the Integrated Planning of Inland Waterways Transport Projects hailed a success T he Croatian Agency for Inland Waterways hosted a two-day workshop

The Urban Waste Water Treatment Directive What is the story behind the implementation of the Urban Waste Water Treatment Directive (UWWTD) in Austria and your personal role in it?
Downloads